NEW: Heaven Hears…an unforgettable story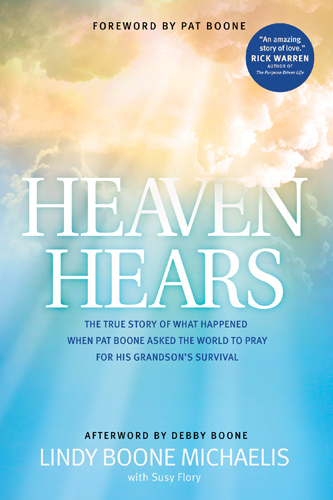 "This is one of the most amazing stories of love I've ever witnessed."  — Rick Warren, Pastor of Saddleback Church and author of The Purpose Driven Life
"This is a wonderful book. I am proud to have played a small part in this incredible story of love and recovery. It is a must for your library." — Larry King
HEAVEN HEARS: The True Story of What Happened When Pat Boone Asked the World to Pray for His Grandson's Survival (Tyndale, 2013), by Lindy Boone Michaelis with Susy Flory, is an unforgettable story about a grandfather's faith, a mother's love, and a son who wouldn't give up. Foreword by Pat Boone; afterword by Debby Boone. Releases May 1, 2013. Purchase your copy at ChristianBook.com, Barnes & Noble, or Amazon.
Read more on Heaven Hears or watch the video.
NEW! Check out the Heaven Hears readers guide for book clubs & small groups.
BESTSELLER: Thunder Dog…a hero on four paws
"Settle in…You are about to read a page turner" — Larry King
Within a week of its August 2, 2011 release date, Thunder Dog landed on the New York Times Best Sellers list (e-books, nonfiction hardcover, combined print & e-book nonfiction). The week of September 11-17, 2011, Thunder Dog ranked #3 for print/e-book nonfiction, and #1 in e-books.
Connect With Susy
You can also find me at Good Reads, the world's largest online book club!